A Glimpse into the UK Job Market: Jobs in UK, United Kingdom is exhibiting telltale signs of a slowdown. Online jobs, remote jobs, job postings, job vacancies and pay offers consistently falling in UK with no assurance.
According to the recent data from various job search websites, including Indeed, Adzuna, and government agencies, plus UK Labour Market Trends & Tracker, jobs in UK are pointing to a decrease in online job vacancies and declining pay offers.
Notably, the Bank of England has taken notice of this trend in the lead-up and considering it in its October 2023 interest rate decision.
Softening of the UK Labor Market
Recent trends in the UK job market reveal further indications of softening. Job opportunities continue to decline, and there are hints that the robust wage growth the market experienced may have reached its peak.
However, painting a comprehensive picture is challenging due to lingering doubts about the reliability of official figures. Researchers and statisticians are unable to provide strong assurances regarding the accuracy of several key indicators.
Advertised Salaries Experience a Dip in September 2023
In September, a noteworthy development was the decline in advertised salaries. Online job advertisements in the UK decreased by 1.6% in September compared to August, deviating from the usual end-of-summer surge in job postings. Generally, jobs see a surge in September when we talk about previous years job market trends. But not this time!
Advertised salaries followed suit with a matching 1.6% decrease. Andrew Hunter, co-founder of Adzuna, remarked that the figures this year might signal a cooling off of the UK job market, which had previously demonstrated resilience.
Jobs in UK Statistics
Let's talk about numbers and statistics of Jobs in UK, how these are travelling now in October 2023.
In September 2023, payrolled employees in the UK are estimated to remain largely unchanged. These numbers are down by 11,000 less payrolled employees compared to the revised figure of August 2023. Which was standing at 30.1 million.
If we compare number of payrolled employees in July vs August 2023 –
Earlier, it was reported that there were 1,000 lesser employees payrolled in August 2003 as compared to July 2023 in UK, but
After reevaluating the data, it was found that the decrease was actually much larger. There were 8,000 fewer employees payrolled in August as compared to July 2023.
One very interesting and intriguing trend is revealed, when we examine salaries for graduate and non-graduate roles. For two consecutive months, median advertised salaries for jobs in graduate positions have decreased, returning to levels last seen in February 2021.
In contrary, average salaries (advertised) for non graduate roles surprisingly continue to grow, reaching an all-time high.
Employment, Unemployment, and Economic Inactivity Rates
While counting estimates for jobs in UK, for the quarter July to September 2023, we demonstrate a 0.3% decrease in the UK employment rate to 75.7%, as compared to the previous quarter from – April to June 2023.
And when we talk about the UK unemployment rate, during the same period till August 2023 – it has grown significantly from 0.2% points to 4.2%.
During the same period, the UK economic inactivity rate saw a increase of 0.1 percentage point to 20.9% as compared to previous quarter, from April to June 2023.
For the quarter – July to September 2023, the estimated number of UK jobs, job postings and job opportunities saw a decrease of 43,000, reaching to the 988,000 jobs in UK.
Jobs in UK, have experienced a continuous decline over 15 consecutive periods, with many job sectors around 14 out of 18 witnessing a decline or reduction.
Impact on Jobs in UK and UK Job Sectors
Job postings have retraced from their peak levels in 2023. Overall job postings have fallen by 25% since the beginning of the year, although they still remain 10% above their pre-pandemic baseline as of October 2023.
The UK construction sector has witnessed the most significant decline, although job openings remain 8% above the baseline. Reason of jobs decline in the construction sector, is constructed by the factors such as – Increased interest rates, slow down in construction activities and significant rise in raw materials cost.
Other sectors, including loading & stocking and production & manufacturing, have also seen notable decreases, but postings remain comfortably above pre-pandemic levels.
Staying away from slowdowns, three categories have seen increases. Those include two in the healthcare sector (physicians & surgeons and medical technicians), along with social science, which encompasses psychologists, researchers, librarians, and economists.
UK Salary and Wage Trends: UK Labor Market Overview
After a protracted period of decline, salaries and wages have seen the largest real gain in over last two years, giving workers in UK much needed relief and respite. Employee salaries and wages in UK are increased by 1.1% annually over the course of the year. This marks the best growth since late 2021, because of inflation decreasing continuously.
When we notice the rise in salary during last three months, salaries and wages has almost reached a record level, which is a positive sign for workers and labors in UK.
However, when we take a look at the following time period – June to August 2023 quarter, the yearly salary has been decreased a bit to 7.8% from 7.9% in the last year (2022).
When we compare these 2 sectors – Public Sector vs Private Sector: It has been found out that, salary growth in the public sector is rising and reached a new high of 6.8% from last year. But, it is still lack behind the 8.0% rise in the private sector jobs and career options.
After a recent pay deal and NHS bonuses, pushed public sector wages, including bonuses, sees a record high of 12.5%.
In specific categories, wage growth remains significant and growing. These categories, led by Childcare (10.5% year-over-year), Cleaning & Sanitation (9.1%), and Personal Care & Home Health (8.4%). Mostly non-graduate job roles 😲.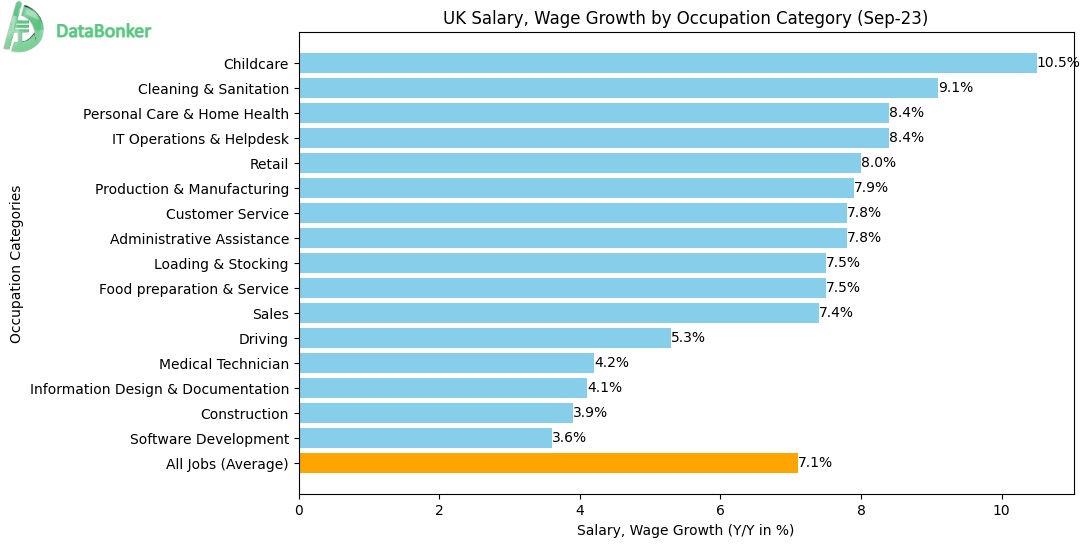 Jobs in UK: Wage and Salary Growth
Source: Indeed
Nevertheless, certain categories, such as driving, construction, and tech, have seen a decrease from their peak levels.
Job Skills in Demand in the UK
When we examine subcategories of skills mentioned in job postings, there is a noticeable trend.
Digital skills came at the top, and most of the skills 7 out of the top 10 subcategories related to these skills.
This includes programming and scripting languages, JavaScript, version control skills, and Jquery. These categories jobs in UK, have witnessed a significant growth in advertised salaries of over 14% from the past year. Thanks to the digital age 📱🌐.
In addition to digital skills, the other skills sees an upswing in advertised salaries are – Plant operations and management, home healthcare, medical technician and living assistance.
👉 Let's look at the top job skills in the UK, which are growing rapidly in terms of "Advertised UK Salaries and UK Wages" in the past one year, as of October 2023 –
Top Job Skills in UK (Complete list)
| | |
| --- | --- |
| Top Skills in UK | Growth in Salary (%) |
| JavaScript and jQuery | 14.1 |
| Version Control | 14.1 |
| Programming and Scripting Languages | 14.1 |
| Cloud Solutions | 14 |
| API | 14 |
| Plant Operations and Management | 13.6 |
| Cloud Computing | 12.3 |
| Web Services | 11.8 |
| Home Health Care and Living Assistance | 11.6 |
| Financial Analysis | 11.4 |
| Business Intelligence Software (BI) | 11.4 |
| Social Skills | 10.7 |
| Product management | 9.7 |
| Query Languages | 9.7 |
| Databases | 9.7 |
| Software Development | 9.7 |
| Software Quality Assurance (QA) & SW Testing | 9.7 |
| Safety and Security | 9.3 |
| Other Programming Languages | 9.2 |
| Agile Software Development | 9.2 |
Top Job Skills in UK
Source: Lightcast
Conclusion: Fall in Jobs in UK
Jobs in UK are falling and down to a two-year low. Latest data from "The Office for National Statistics" reported 988,000 total job positions and job postings in the last three months to September 2023. These figures reflects the fifteenth consecutive period of decline in UK jobs and represents a 24% drop from the peak.
These figures suggest that the UK labor market has continued to cool down, from the last three months till August 2023. The employment rate in UK has declined, which means Jobs in UK, employment opportunities in London and other cities of United Kingdom has dipped.
It is clear to say that, the unemployment rate in UK continues to gradually rise, and is now stands at 4.2%.
However, workers are finally experiencing a respite as real wage growth has entered positive territory after an extended period of earnings being squeezed by high inflation.
While current salaries and wage growth in UK remains robust and seems to be growing, it may have reached its zenith. This could provide reassurance to the Bank of England regarding inflationary pressures (that they are in control), even though they remain above target levels.