Course on Sports Data Analytics launched: Welcome to the Latest News page, where we delve into the most recent happenings in the dynamic realm of Education, Technology, Innovation and Latest Buzz. The stories which are, igniting a wave of excitement and curiosity within the industry. In this ever-evolving and infinite landscape, we aim to shed light on the cutting-edge advancements, emerging education and job trends, and groundbreaking innovations that are shaping the future and making impact across the world.
As dedicated career, education and technology reporters, our mission is to bring you up-to-the-minute and latest coverage of the most compelling stories and developments that are making waves across various career and tech domains. From artificial intelligence (AI) and robotics to cybersecurity, education, career and blockchain, we traverse the vast spectrum of courses and technology to capture the pulse of progress.
Welcome to the forefront of career, education and technology news, where we illuminate the present and elevate your understanding of the profound impact that education and technology has on our lives.
Today, we will be covering three education and tech stories –
Glasgow, Scotland – UK – The University of Strathclyde has launched a new master's course, Msc in Sport Data Analytics.
Good news for students seeking course in Data Analytics related to Sports. The University of Strathclyde has just launched a new master's course, Msc in Sport Data Analytics.
The purpose and objective of this course is to provide graduates with the knowledge and tools required to analyze, interpret, and effectively present data especially in the field of sports. This kind of course are not commonly available and would provide you with the in-depth knowledge of –
How to deal with this kind of data?
How to analyze and generate important insights from this kind of data?, among others. Isn't it great!
After completing this course, students will have acquired the necessary skills and experience to excel in their respective fields with knowledge of cutting-edge technologies and software. If you wish to apply for this course, you can apply on the official website, which is – www.strath.ac.uk.
The full time course will be 12 months long, while the part-time programme will be 24 months long. Course to start from September, 2023.
To apply for this Course: You should submit Application by August, 2023. The Course is scheduled to commence in September, 2023. The total number of available spots for the course is 20. Prospective candidates who wish to apply for the course must possess an IELTS score of 6.5 or higher.
Amazon Introduced Security Analytics for OpenSearch Service
Amazon OpenSearch Service announces the availability of Security Analytics. The successor of ElasticSearch Service has been enhanced with new capabilities that offer threat monitoring, detection, and alerting functionalities to help manage security threats. This includes a new security analytics plugin that can identify attack signatures and create alerts from security findings. The plugin uses dashboards to visualize threat patterns, enabling the visualization of metrics data from Prometheus and log data aggregated within OpenSearch. It also supports trace data collected by Jaeger.
Amazon OpenSearch Service now includes a pre-loaded threat detection engine with a set of default rules, and has recently announced support for OpenSearch 2.5. This latest open-source version also features improvements to observability and geospatial functionality, as well as support for Point in Time Search.
The Security Analytics tool comprises four main components, including detectors, which are the core elements used to identify cybersecurity threats, log types that provide the data used to evaluate events, rules that define the conditional logic applied to the ingested log data, and findings that are generated every time a detector matches a rule with a log event.
World's First Commercial Undersea Data Center launched in South China
World's first commercial undersea data center hits water on Friday, in South China's Hainan Province. It is launched in Lingshui Li Autonomous County, S China.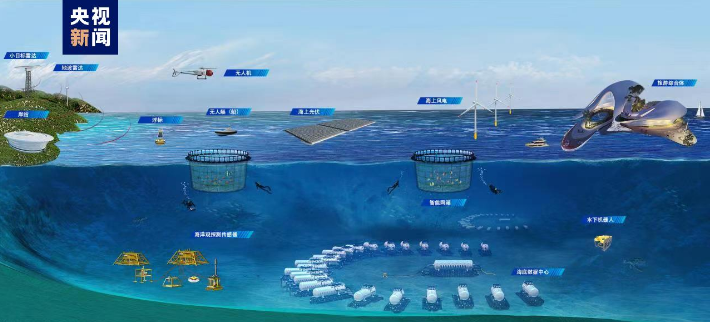 The world's first commercial data center of its kind is composed of a shore station, an underwater relay station, an underwater data terminal, and submarine cables. The relay station and data terminal will be installed on the designated seabed target. The submarine data compartment, which is the core equipment, has a cylindrical tank shape with a diameter of 3.6 meters and weighs 1,300 tonnes, equivalent to the weight of 1,000 cars. This compartment has a design life of 25 years and can provide a safe, sealed, oxygen-free environment with constant humidity and pressure at a depth of over 30 meters.
Deploying servers in the sealed data compartments on the seabed can leverage seawater as a natural cooling source, resulting in higher performance in energy, water, and land conservation. This approach provides strong computing capabilities, rapid deployment, and high security.
By using ambient water as a natural cooling source, energy costs can be reduced by more than 30% compared to traditional data centers. Additionally, this method saves on costs associated with water preparation for cooling purposes, resulting in saving of approximately 30,000 cubic meters of water per megawatt each year, according to China Daily, which cited the builder of the data center, Beijing Highlander Digital Technology Co., Ltd.
India Withheld Pakistan Government's Twitter Account
After banning an Indian Facebook account that spread false and anti-India content online was banned, alongside eight news channels on YouTube, including one located in Pakistan, last year in August. Now, India has blocked the official Twitter account of the Pakistani government in compliance with a court order.
An attempt to access @GovtofPakistan's Twitter account displays a message stating "Account Withheld in India" in response to a court order. This marks the third time the account has been restricted in India, with the previous incidents occurring in July and October of 2022.
Twitter follows its policies in response to a valid legal demand, often in the form of a court order. As a result, Indian users are currently unable to access the Pakistani government's @GovtofPakistan Twitter account.
It is worth noting that Pakistan's official Twitter accounts for its embassies in the United Nations, Turkey, Iran, and Egypt were closed down last year.