Career Certificates and Certifications That Can Boost Your Career: Career advancement or career building requires the qualifications and abilities in today's fast-paced, competitive employment market. A college degree is essential, but it's not always enough to stand out. Certifications, Career Certificates or Job Certificates may help here.
Career Certificates show your competence in a job sector or technology and might help your career growth. Career oriented certifications can help you in educating important practical skills, real life scenarios and job oriented use cases. Thus, increasing the importance of your Education and Learning.
This article introduces and discusses some good career building certifications, that can help you in your career growth and boost your career path. But, first understand the importance and value of certifications in career building and increasing the chances of getting a dream job.
The Value of Certifications or Career Certificates
Let's first explore the value of credentials in the modern employment market before getting into specific qualifications. The following advantages of certifications or career certificates, can help you in your career advancement:
Skills Validation
Certifications are a measurable way to demonstrate your proficiency in a particular field. They give potential employers faith in your skills, which enhances your candidacy.
Keep Up
A lot of certifications call for periodic recertification and continuing education. This ensures you stay abreast of the most recent trends and advancements in your industry.
Competitive Advantage
If you have certifications, you can stand out from other job applicants who might not. Having a certificate is practically a requirement for some positions in some industries.
Career Development or Career Advancement
Many companies value certified employees and are more likely to promote or pay more to those who hold them.
Even at the time of job interview, many companies prefer candidates who have relevant certifications related to the job opening, they have applied for.
Networking
Getting certified frequently entails communication with a group of professionals, who share your interests. This helps in building a group or network, which may open up beneficial networking possibilities and new perspectives.
Now, let's move and explore some useful Career Certificates and Certifications for different job oriented categories –
IT: Information Technology Certifications
Given that the IT sector is known for its dynamic environment, certifications are beneficial. The following IT certifications and career certificates can significantly advance your career growth:
An entry-level certification that attests to your fundamental IT abilities is the CompTIA A+ designation. It covers subjects like networking, hardware, software, and troubleshooting. For those wishing to begin a career in IT support or help desk roles, this certification is a great place to start.
Certified Information Systems Security Professional (CISSP)
The CISSP certification is highly respected among those with an interest in Cybersecurity. It indicates your information security knowledge and is known all around the world. Since firms place a high priority on protecting their data and systems from cyber attacks, CISSP-certified experts are in high demand.
Cisco Certified Network Associate (CCNA)
Those who want to specialize in Networking should get a CCNA certification. It covers network foundations, switching, and routing. Businesses rely on safe, influential networks, thus, networking specialists with CCNA certification are in high demand.
AWS Solutions Architect Certified
Cloud platform certifications are widely sought after as cloud computing continues to rule the IT world. For professionals using Amazon Web Services (AWS), the AWS Certified Solutions Architect credential was created.
These career caertficates, certifies your proficiency in creating and deploying dependable, scalable systems on AWS.
Healthcare Certifications and Career Certificates
Many certificates are available in the healthcare sector for workers at different levels. The following career certificates and medical qualifications can help you develop your career in healthcare sector: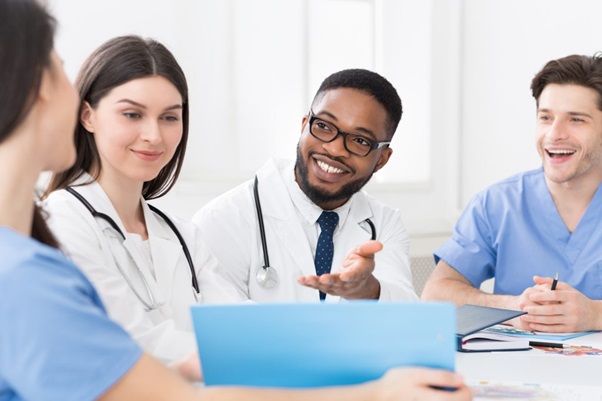 Advanced practice nurses with a focus on anesthesia are known as CRNAs. One of the highest-paying certifications in the nursing industry, it calls for a high degree of education and training. Surgery relies heavily on CRNAs, which makes this accreditation highly regarded.
Certified Health Information Management
Professionals in health information management are in charge of maintaining the security and accuracy of patient data. For those interested in working in health information management, the CHIM certification is proof of knowledge in the subject.
Certified Pharmacy Technician
In a variety of healthcare settings, pharmacy technicians support pharmacists. Obtaining certification as a pharmacy technician displays your proficiency in patient care, prescription processing, and medicine dispensing. The pharmaceutical business values this qualification.
In almost every sector of the economy, efficient project management is essential. Project management certifications and career certificates, demonstrate your capacity for project leadership and execution. The following are notable project management credentials:
Professional in Project Management (PMP)
The PMP certification is awarded by the Project Management Institute (PMI) and some other reputed institutes. Do you know project management methodologies and processes, if not, than go and grab this high demand career oriented certificate. PMP-certified professionals are in demand across industries.
The CSM certification is not only applicable to the IT industry, as was previously stated. Project managers and teams working in Agile contexts, can also benefit from it. Agile techniques are becoming more widely used across various industries, due to their adaptability and effectiveness.
CAPM Designation Career Certificates
An entry-level project management certification, also provided by PMI is the CAPM designation. It's an excellent option for those who are unfamiliar with project management and wish to build a solid foundation.
Certifications in Accounting and Finance
Numerous career certificates and qualifications are available in the accounting and finance fields. These certifications can significantly improve your career path and employment prospects:
Chartered Professional Accountant (CPA)
The CPA designation is regarded as the pinnacle of accounting credentials in the US. It calls for passing a challenging exam and fulfilling specific educational and experience prerequisites. For their knowledge of financial accounting and tax laws, CPAs are highly sought after.
The CFA certification targets financial analysts and investment managers. Financial reporting, portfolio management, and economic ethics are presented. CFAs work for financial and investment businesses.
For management accountants who concentrate on financial management and strategy within firms, the CMA certification is excellent. It addresses issues including financial analysis, risk management, and budgeting. The ability of CMAs to offer strategic financial insights is highly regarded.
Career Certificates in Marketing and Digital Marketing
Marketing has changed tremendously in the digital age, making credentials in this area worthwhile. Some marketing and digital marketing certificates that could advance your profession and build a well sought after career, are listed below:
The Google Ads accreditation is crucial, if you're interested in online advertising and pay-per-click (PPC) marketing. It demonstrates your mastery of Google Ads campaign management, an essential talent for advertisers and digital marketers.
Certification in Inbound Marketing from HubSpot
The Inbound Marketing certification is one of a number of certificates offered by HubSpot, and it is also one of the most popular. It addresses lead nurturing, content marketing, email marketing, and inbound marketing tactics. The digital marketing sector recognizes HubSpot certifications.
Content Marketing Institute Career Certificates
Content marketing is now essential to digital marketing initiatives. The CMI certifies content marketing skills in strategy, creation, and distribution.
Certifications in Human Resources (HR)
In the field of Human Resources, it's crucial to showcase your knowledge to employers, even more so than formal education and experience. Staying updated on employment laws and HR best practices can be challenging, but it's essential for staying relevant in HR.
Obtaining an HR certification can greatly benefit your long-term career prospects. Studies have also found that individuals who pursue certification or career certificate programs tend to increase their earnings potential throughout their careers, sometimes by as much as over 40%.
Whether you're starting a new career or exploring a new HR specialization, getting an HR certification can give you a strong head start. It can lead to higher salaries and seniority in HR career path.
Here are some good HR courses, you can consider based on your requirements for career advancement! Following is the list –
To demonstrate expertise in HR practices, policies, and initiatives, HR professionals should acquire SHRM-CP certification. It has a good HR reputation and may help you advance.
Professional in Human Resources (PHR)
A certificate from HRCI is another good option. HR topics include hiring, employee relations, and employment law. Your earnings may increase with this qualification.
This free HR course by Alison, teaches and equip you with upgrading your Human Resource Manager useful skills and responsibilities, how you can hire resources more effectively, train and manage them, upgrade your skills of selection, recruitment and appraisal processes.
It also covers, building an efficient staffing plan and helps you in managing employees effectively, among other skills.
Conclusion
Career Certificates and Certifications benefit careers and helps you in building a successful career path. Certifications boost your IT, healthcare, project management, finance, marketing, and HR skills and marketability.
Select a certification that suits your career goals and interests. Ensure each certificate matches your needs by reviewing its requirements, prices, and re-certification processes. Certifications prove your skills and advance your career, making them a good investment. Explore your field's credentials and start working. Your future self will like it.