Canada Jobs Update: How to apply for over 2 lakh Canada STEM jobs and Express Entry Program: Canada a country located in North America, is known for its breathtaking landscapes and welcoming multiculturalism, offers a lot more than just scenic beauty. Canada's allure extends far beyond its stunning natural wonders, as it boasts a robust and dynamic job market. It's a land of vast opportunities, especially for job professionals seeking a fresh start or career advancement.
If we notice, in recent years – Canada has emerged as a global hotspot for students, techies and professionals in Science, Technology, Engineering, and Mathematics (STEM) fields from around the world. Canada job bank or market presents an exceptional prospect for STEM professionals, with over 2 lakh STEM job openings.
These 200,000 job positions which are even more than this number are available within the Science, Technology, Engineering, and Mathematics sectors (STEM) in Canada. The country is looking for and beckoning talented individuals, skilled migrant labors from around the world, and for good reasons.
So, what exactly makes Canada a top destination for job professionals or job seekers, especially in the STEM fields? In this informative piece, we'll explore the steps you need to take to secure these coveted STEM jobs and positions and how your expertise can contribute to ever-evolving Canada job market.
This comprehensive guide aims to shed light on the Canada job application procedures. You will find relevant information about, How and Where you can apply for Canada Express Entry Program?
The steps you should take, how many STEM jobs available in Canada and more! This article will underscore the pivotal role that STEM experts occupy in STEM jobs, mitigating labor scarcities and propelling innovation within the Canadian landscape.
So, let's embark and travel on this journey together, uncovering the Canada Jobs, Canada job opportunities, job openings and responsibilities that await you in the vibrant Canadian job market.
Let's delve into the enticing factors that can make Canada an irresistible choice for you and for those looking to embark on a promising career journey and get their dream job.
Canada STEM Jobs: Express Entry Program
In a recent development, Immigration, Refugees and Citizenship Canada (IRCC) has taken a strategic step to place STEM jobs at the forefront of Express Entry Program (Express Entry System), category-based draws for the year 2023. This initiative is part of a broader plan encompassing five distinct occupational categories.
Earlier this year (2023), Express Entry introduced category-based draws as a means to select international workers, foreign workers, immigrants or refugees, who fulfill specific criteria crucial to meeting Canada economic needs and objectives. These newly introduces criterias encompass aspects like education, work experience, and language proficiency, all carefully chosen to align with the nation's priorities.
After extensive consultations with various stakeholders and the public, the federal government has identified five priority occupational jobs categories grappling with labor shortages.
These categories span across healthcare, STEM (Science, Technology, Engineering, and Mathematics), transportation, trades, and agriculture/agrifood.
In category-based draws, candidates with specialized skills and work experience take precedence. Those international workers and immigrants would be given priority, in emphasizing the value of their contributions to the Canadian workforce and Canada economy.
Meanwhile, in standard Express Entry draws, candidates' Comprehensive Ranking System (CRS) scores continue to be a key consideration.
This strategic focus on STEM Jobs and STEM Occupations, not only offers an exciting opportunity for skilled professionals but also underscores Canada's commitment to innovation and economic growth.
Why STEM Jobs Category was chosen
By the end of 2022, a notable concern came to the forefront – a potential skills gap within Canada STEM workforce. The reason for this gap arises from a combination of factors – including high retirement rates and rapid technological advancements, as highlighted by Statistics Canada.
The other reason which is contributing in the hiring of more skilled foreign or international workers, is the remarkable growth of Canada Artificial Intelligence (AI) sector in the past few years. Therefore, the demand for skilled tech professionals in the country has been continuously on the rise.
Another factor is Canada securing an impressive fourth place in global rankings for innovation, implementation, and investment, according to the Global AI Index thus instigating the demand for more skilled international workers or foreign workers.
Recently, the Honorable Minister of Innovation, Science and Industry – François-Philippe Champagne, outlinead and underscored the significance of Canada's ability to attract more foreign talent. He emphasized that the new STEM-focused category-based selection round is designed to bolster the science and technology sector.
By doing so, Canada aims to attract even more skilled individuals, aligning perfectly with the needs of companies eager to drive innovation and achieve their growth objectives.
Minister Champagne words resonate with the current landscape. He pointed out that Canada, renowned for its talent attraction capabilities, coupled with the entrepreneurial innovation within the nation, stands as the premier destination globally for launching and expanding technology ventures.
Number of STEM Jobs available
Below you can find the approximate number of STEM jobs available in Canada –
Canada civil engineering jobs: 26,100 new STEM jobs
Mechanical engineer jobs: 12,700 new STEM jobs
Manufacturing and Industrial engineering jobs: 3,800 new STEM jobs
Electrical and electronics engineering jobs: 12,600 new STEM jobs
Actuaries, statisticians and Mathematicians jobs: 4,600 new STEM jobs
Technical jobs and occupations in physical sciences: 12,200 new STEM jobs
Software engineer jobs and software designer jobs: 44,300 new STEM jobs
Computer programmers jobs and interactive media developers: 80,500 new STEM jobs
To make it more clear, find the total number of STEM Jobs available in Canada in a table and through graphical representation (data visualization) below –
| S. No. | Jobs Category | No. of STEM Jobs |
| --- | --- | --- |
| 1 | Computer programmers jobs and interactive media developers | 80,500 |
| 2 | Software engineer jobs and software designer jobs | 44,300 |
| 3 | Civil engineering jobs | 26,100 |
| 4 | Mechanical engineer jobs | 12,700 |
| 5 | Electrical and electronics engineering jobs | 12,600 |
| 6 | Technical jobs and occupations in physical sciences | 12,200 |
| 7 | Actuaries, statisticians, and mathematicians jobs | 4,600 |
| 8 | Manufacturing and Industrial engineering jobs | 3,800 |
Number of STEM Jobs available in Canada by Category –
Percentage of STEM Jobs available in Canada by Category –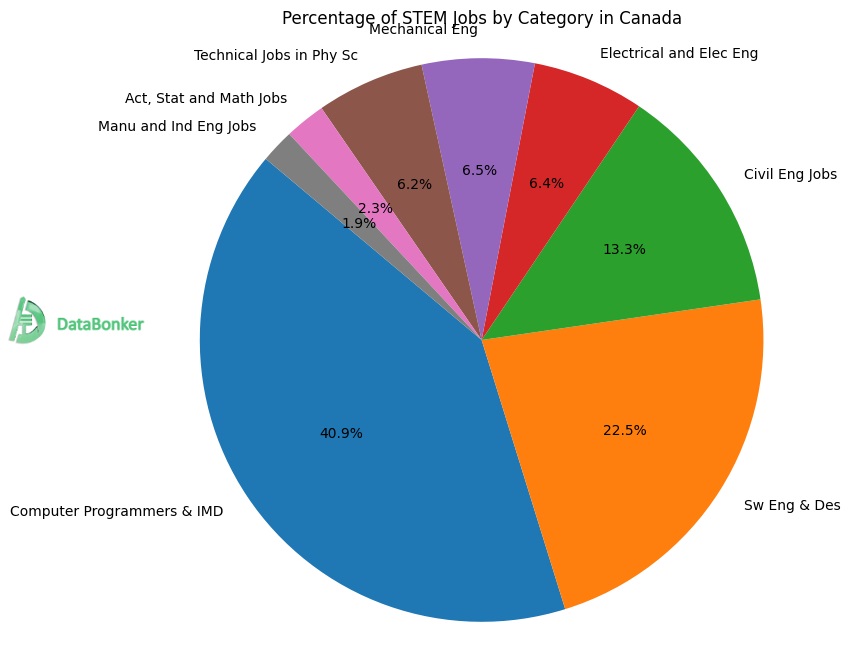 Does these Canada Jobs, Canada STEM Jobs figures motivated you! So, lets dig into more details.
The above numbers paint a clear picture: Canada is on the verge of a significant demand for skilled STEM professionals. This surge in demand is driven by the imminent job openings and the pressing need to bridge labor gaps within the country.
To put it plainly, Canada will soon require hundreds of thousands of new STEM workers to meet these demands. This latest development signifies a promising outlook for job seekers in Canada. It also highlights the nation commitment to fostering growth, innovation and technology advancements in the STEM sector.
In the following sections, we'll explore what this means for aspiring STEM professionals seeking Jobs in Canada or Canada Jobs. And how and where, you can apply for these STEM jobs and position yourself for success in Canada dynamic job market, making your career path a success.
How to Apply for Canada Express Entry Program
To apply for STEM jobs in Canada several steps and procedures are involved. It's important and crucial to take and follow the right steps and procedures. This would help in making yourself count and increase your chances of getting a job in Canada.
Following are the steps to apply for Canada Express Entry Program and Canada STEM jobs:
Step 1: Check out your Eligibility
Before applying to Stem jobs in Canada, you should ensure that you meet the eligibility criteria. This typically involves having the required educational qualifications, relevant work experience, and language proficiency.
Main eligibility criteria is – You should have minimum of 6 months experience of work continuity, which could either be in Canada or in any another country (abroad). This work experience should be within your last 3 years of working within a same job. Also that job should fall under the STEM category jobs.
Taking a moment to carefully examine the specific prerequisites for each program under Express Entry is crucial. This thorough review ensures that you check all the necessary boxes and are well-prepared to navigate the path to your STEM career in Canada.
Step 2: Create and Submit your Express Entry Profile
To initiate your journey into the world of Canadian STEM careers, your first step is to create an Express Entry profile on the Immigration, Refugees, and Citizenship Canada (IRCC) website. This platform stands as the primary system and place for managing applications from skilled workers like you.
You should think of your Express Entry profile as your comprehensive introduction. It's your opportunity to provide a clear, detailed and accurate snapshot of your background and qualifications.
Accuracy is key here – ensure that you furnish precise information about your educational qualifications, work experience, language skills, and any other pertinent details.
Step 3: Get and Check your Comprehensive Ranking System (CRS) Score
After checking your eligibility and submitting your Express Entry profile, you will get your Comprehensive Ranking System score and ranked according to the CRS score in the Express Entry pool.
Let's delve into an important aspect of your Canadian STEM journey: the Comprehensive Ranking System score or CRS score.
What is CRS Score? – It's a point-based system that evaluates and scores your profile, considering factors such as your age, educational background, work experience, language proficiency, and more. Your CRS score determines your position in the candidate pool.
To receive an Invitation to Apply (ITA), your score must above the minimum threshold for that specific invitation round. You can get an estimate of your CRS score using the provided CRS tool.
The key here is to make the most of your CRS score to boost your chances of securing an Invitation to Apply (ITA).
Step 4: Complete and Submit Your Express Entry Profile
Once you have confirmed that you meet the eligibility criteria, submit your Express Entry profile. After submitting your profile, a Comprehensive Ranking System (CRS) score would be generated based and assigned to you, on the information you have provided in your profile. Your profile will be submitted and accepted.
Now, you will be able to find yourself with the other potential candidates like you, in the website talent pool. Make sure that your profile is complete, accurate and up to date! Follow right practices and standards to make your application process smoother and easier to get a good CRS score.
Once that's in order, you'll automatically become part of draws for various categories, including STEM jobs, all depending on your profile.
Step 5: Get ready with Legal Documents and others
Till this stage, make sure your required and legal documents should be ready! It would be helpful in speeding up Visa Application Process, because some documents may take time.
Start the process of collecting documents early, to apply and participate in the Canada Express Entry program. Some of the documents include –
Your passport,
Legal travel document (if required!),
Results of language test,
Relevant funds proof,
Work experience letter or proof,
Assessment report of an educational credential for immigration purposes,
Trade occupation certificate (if any), provided or issued by a Canadian province,
Relevant job offer from a Canada company or an employer.
These documents are not required during submitting a profile, but some information may be required at that time.
Note: There may be additional documents required, during the application process! Depending on your profile, STEM job you are applying for, based on your past experience or on the family members you have. So, be prepared for it.
Step 6: Job Search and Apply
Now, start your job search for STEM positions in Canada. You can apply for STEM jobs through – Job search websites, professional and personal networks (networking), and dedicated job boards, and discover the right job opening.
After identifying job openings and positions that match your qualifications and experience, it is time to get rolling and take action.
Submit your applications with a tailored approach. Customize your resume and cover letter (CV) for each job application, showcasing your skills and aligning them with the specific role. This personalized touch will make you stand out as an ideal fit for the job.
Step 7: Get An Invitation, ITA (Invitation To Apply) or Receiving a Job Offer
In the Express Entry pool, candidates with the top scores will be given and extended invitations to apply (ITA). Once you receive an invitation, you'll have a comfortable window of 60 days to submit your application. Generally, the processing times for most complete applications, including all required documents, are a swift six months or less.
OR – Alternatively, if you secure a job offer from a Canadian employer, it can substantially bolster your Express Entry profile and Comprehensive Ranking System (CRS) score.
A valid job offer significantly heightens your likelihood of receiving an Invitation to Apply (ITA). It's a straightforward and effective way to enhance your prospects in the Canadian job market.
Step 8: Get your Medical Examination and Clearance Certificates
You have to undergo a medical examination test or health test after receiving an Invitation To Apply (ITA). Along with this, you also have to obtain clearance certificates through police, and other applicable authorities after receiving your ITA.
These certificates and documents are mandatory for your immigration application. When you would get ITA, you need to upload these documents along with your Birth Certificates, Proof Of Funds and others.
Step 9: Submit your Canada Permanent Residency Application (PRA)
After receiving an Invitation To Apply (ITA), next step is to submit your Permanent Residency Application (PRA), along with all the required documents, certificates and fees within the designated or allotted time frame.
Keep in mind that the processing time for permanent residency applications may vary. To stay informed about the progress of your application, you can regularly check for updates on the IRCC website.
This ensures that you are updated and following up status of your application regularly.
Step 10: Welcome to Canada!
Hopefully 🤞😊 – After your application receives approval, you would be issued a Confirmation of Permanent Residence (COPR). With this in hand, you can begin making your plans to relocate to Canada and kickstart or build your career with STEM Jobs.
It is important and crucial to remain updated about the most current immigration policies and requirements, as they may evolve over time.
Seeking guidance from an immigration consultant or lawyer can prove helpful and valuable in ensuring a hassle free application process.
Where to Apply
To apply for the application process for skilled international workers or skilled foreign workers or skilled immigrants, you need to apply here –
Canada Express Entry Program, official website to permanently settle in Canada.
Conclusion: STEM Jobs for International Workers
When we look at the 2022 year end report by Express Entry Canada, the top three primary occupations among the Invitation to Apply (ITA) recipients or foreign workers were predominantly from the Technology Sector (IT Sector).
The majority of candidates who received ITAs through the Express Entry system were belonged to following STEM Jobs Roles –
Software Designers and Software Engineers,
Information System Specialists (IT Specialists),
Software Developers and Computer Programmers.
For proficient STEM professionals aspiring to make Canada their new home, this is absolutely a valid and an exciting pathway. Express Entry draws tailored specifically for STEM workers provide an excellent opportunity for immigration.
This golden chance allows these skilled individuals, international workers, immigrants to contribute to Canada STEM industry and economy, alongside building fulfilling their career dreams in the country. These foreign workers would be instrumental in addressing labor shortages and propelling the Canada STEM sector forward.